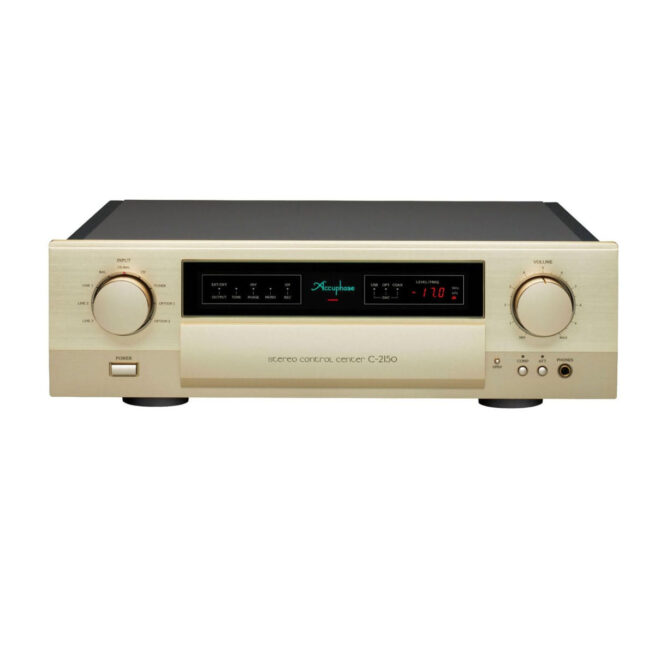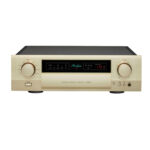 Accuphase C-2150 Stereo Control Center
100% brand new original products
Official manufacturer's warranty valid in India
Price includes GST & Shipping
Check for EMI & Pay on Delivery Options
Country of Origin: Japan
Color: Gold
Warranty: 1 Year
28
people are viewing this right now
Out of stock

Guaranteed safe & secure checkout
Description
Accuphase C-2150 Stereo Control Centre is now available on Tecnifi. The Accuphase C-2150 for the first time amalgamates a new topology called ANCC with the AAVA volume control principle. As an outcome, music reproduction is supple, elegant and full of transparency, with a spatial expression capability that eliminates the presence of any volume control circuit. With a functionality level close to higher-end models and a versatile array of input and output terminals, alongside the choice of adding option boards, the C-2150 renders fully immersive music enjoyment. This breakthrough control centre will effectively cater to the needs of even the most demanding music lover.
AAVA converts the music signal into 16 differently weighted current streams (1 / 2, 1 / 22 , … 1 / 215, 1 / 216) which are combined according to the position of the volume control knob, resulting in exactly the desired listening level.
The C-2150 uses ANCC topology for the I-V converter amplifier, balanced output amplifier, and headphone amplifier. This innovative topology adds a sub-amplifier for effectively canceling noise in the main amplifier circuit. The use of low-noise technology in the sub-amplifier (noise density: 1.5 nV / √Hz) further enhances the benefits of ANCC. By incorporating ANCC in the I-V converter amplifier and the balanced amplifier of the AAVA section, a further drastic reduction in noise is achieved, especially at low to medium volume level positions.
Separate unit amplifiers for left and right
The C-2150 comprises five separate amplifiers: input buffer, V-I converter, I-V converter, output buffer, and headphone. These are configured as five separate circuit boards arranged on a motherboard, providing ample space for components and ensuring outstanding reliability and performance. Left and right channels are kept completely separate to prevent unwanted electrical interaction.
Key Features
AAVA volume control with newly developed ANCC feature
Five line level and two balanced inputs for optimum flexibility
Recorder connection support
Logic-control relays for shortest signal paths
Separate power supplies for left and right channels
Fully modular construction with individual left / right amplifier units
Phase selection function
Tone controls
Dedicated headphone amplifier
Option board slots provide additional versatility for digital input handling and analog record playback
Technical Specs
Technical Details
Frequency Response
BALANCED/LINE INPUT:
3 ‒ 200,000 Hz +0 -3.0 dB
20 ‒ 20,000 Hz +0 -0.2 dB
AD INPUT [MM/MC]*:
 20 - 20,000 Hz ±0.3 dB
Total Harmonic Distortion
0.005%
Maximum Line Input Voltage
BALANCED/LINE INPUT: 6.0 V
Maximum AD Input Voltage
(1 kHz, 0.005% THD)
MM / 40 dB INPUT: 60.0 mV
MC / 66 dB INPUT: 3.0 mV
Gain (18 dB position)
BALANCED INPUT → BALANCED OUTPUT: 18 dB
LINE INPUT → BALANCED OUTPUT: 18 dB
LINE INPUT → LINE OUTPUT: 18 dB
AD[MM: 40 dB]INPUT* → BALANCED / LINE OUTPUT: 58 dB
AD[MM: 40 dB]INPUT* → REC OUTPUT: 40 dB
AD[MC: 66 dB]INPUT* → BALANCED / LINE OUTPUT: 84 dB
AD[MC: 66 dB]INPUT* → REC OUTPUT: 66 dB
Tone Controls
Bass / Treble controls turnover frequencies and adjustment range
BASS: 40 / 100 Hz ±10 dB
TREBLE: 8 / 20 kHz ±10 dB
Loudness Compensation
+6 dB (100 Hz)
Headphone Jack
Output level: 2 V (40 ohms), Suitable impedance: 8 ohms or higher
Subsonic Filter
25 Hz: –12 dB / octave
Attenuator
-20 dB
Power Consumption
34 watts
Maximum Dimensions
Width 465 mm (18.3")
Height 150 mm (15.9")
Depth 405 mm (15.9")
Weight
16.9 kg (37.0 lbs) net
There are no question found.
Setup
Setting up your system is fairly simple. You can follow the instructions in the video below or navigate through the product manual available at the bottom of this page. If you still face issues, feel free to connect with our expert team on chat or call.