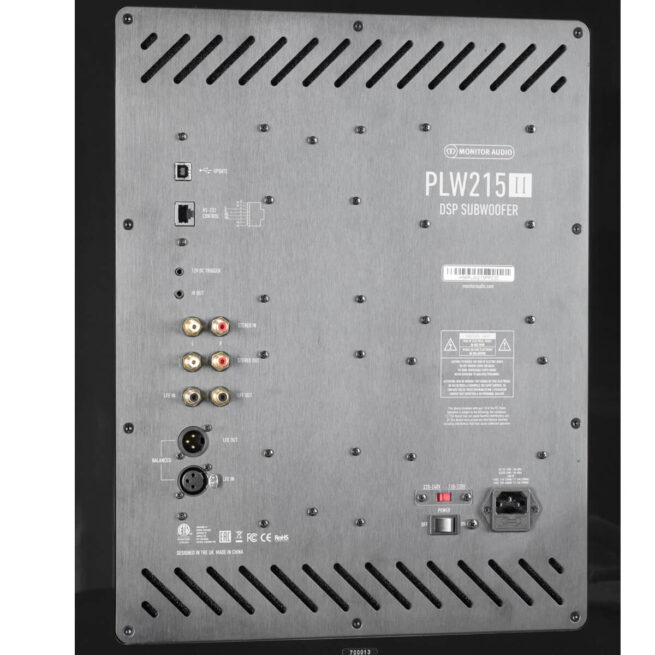 Monitor Audio PLW 215 II Subwoofer
100% brand new original products
Official manufacturer's warranty valid in India
Price includes GST & Shipping
Check for EMI & Pay on Delivery Options
Country of Origin: United Kingdom
Color: Piano Black Lacquer / Ebony Real Wood Veneer
Warranty: 1 Year
25
people are viewing this right now
Description
Monitor Audio PLW 215 II Subwoofer
Just recall your last encounter with the awe-inspiring power of thunder; how its huge natural presence is able to translate the experience of low-frequency sound into a shock wave. The Monitor Audio PLW 215 II will help you to re-live the air-bending effect of Mother Nature's own subwoofer within your listening room.
Sound of Nature re-created
Twin 15″ C-CAM drivers, triple-suspended for a full 4 cm of excursion and individually powered by DSP-controlled amplifiers deliver clean frequencies down to 16 Hz. At this level, bass arrives with a percussive impact that you feel from head to toe, seamlessly extending even the PL500 II to deliver remarkable audio resolution beyond the limits of your audible range, but with a physical dimension that absorbs the senses. Simply put, it's the sound of nature, vividly re-created.
Functionally Sophisticated and Natural Sounding Bass
Even so, all this explosive audio potency would be wasted without control. Adjust the in-room response of the PLW215 II on the top panel or via laptop using Monitor Audio's proprietary 'SubConnect' software. Within this global setting, the 24bit DSP offers four fully configurable user-presets per input, comprising pre-set modes for Flat/Music/Movie/Impact EQ settings. If you wish to fine-tune, you can adjust frequency, slope, trim and EQ filters for each preset. There's also a Night Mode, which actively reduces the dynamic range of louder sections according to the level you desire. The PLW215 II is the most powerful, sophisticated and natural-sounding bass engine Monitor Audio has ever built, and so complements the flagship Platinum II range with absolute precision.
Key Features
Twin 15" C-CAM drivers, triple-suspended for a full 4cm of excursion
A dedicated DSP-controlled amplifier powers each driver
SubConnect software: adjust in-room response using top panel dial or laptop
4 user presets per input, including preset Flat/Music/Movie/Impact modes
Night Mode: actively reduces dynamic range of louder sections to desired level
High current Switch mode power supply (SMPSU)
12v trigger in (3.5 mm mono mini-jack, 6v threshold)
IR remote included, IR receiver on front panel
3.5 mm microphone input jack, microphone included
Technical Specs
Technical Details

System Format
Sealed Cabinet with vibration cancelling driver configuration,
25 mm M.D.F. construction with internal bracing and sealed amplifier compartment
Lower Frequency Limit
-3 dB @ 23 Hz / -10 dB @ 18 Hz (Free Field) default preset: Music, -3 dB @ 19 Hz / -10 dB @ 16 Hz (In Room) default preset: Music, Limited by low frequency protection filter (-3 dB @ 12 Hz)
Upper Frequency Limit
 -3 dB @ 150 Hz
Drive Unit Complement
2 x 15" C-CAM sub-woofer drivers featuring inverted surround and triple suspension for increase support at high excursions.
Black single layer edge wound 3" voice coil with vented pole, vented coil and black CED coated motor unit to reduce power compression and increase thermal dissipation.
FEA optimised cone, magnetics and suspensions for optimal performance and increased linearity
Linear Driver Excursion
42 mm Peak to Peak,
Total displacement 6.4 Litres
Amplifier Output
Dual Amplifier design with a single amplifier powering each driver,
Combined 1400 W RMS, 2000 W Peak (Burst Ratio 1:4 Continuous,
Measured into two non-reactive 4 Ohm Loads)
Amplifier Classification
2x Class-D amplifiers, Balanced Differential Input, Differentially loaded Power Supply, DSP controlled. High current Switch mode power supply (SMPSU)
User Equalisation (via SubConnect)
6 fully controllable EQ filters and 6 default filters with gain offset per preset,
Default settings: Flat / Music / Movie / Impact
Phase Control
0-360 degrees, Increments of 15 degrees with a pure invert at 180 degrees
Audio Input Connection
LFE Input with Balanced (XLR) and Unbalanced (RCA) inputs, Stereo Input with unbalanced (RCA) inputs. Inputs individually assignable to any Preset
Power Consumption
Maximum 1200 W, Standby <0.5 W (ErP compliance)
Fuse Type
20 mm T12.5AL 250VAC
External Dimensions (Including Amp, Drivers and Terminals (H x W x D))
500 x 504 x 512.5 mm
(1911/16 x 1913/16 x 203/16")
External Dimensions (Including Amp, Drivers, Terminals and Feet (H x W x D))
545.8 x 504 x 512.5 mm (211/2x 1913/16x 202/16")
Weight (unpacked)
57.54 kg (126 lb 10 oz)
There are no question found.
Setup
Setting up your system is fairly simple. You can follow the instructions in the video below or navigate through the product manual available at the bottom of this page. If you still face issues, feel free to connect with our expert team on chat or call.