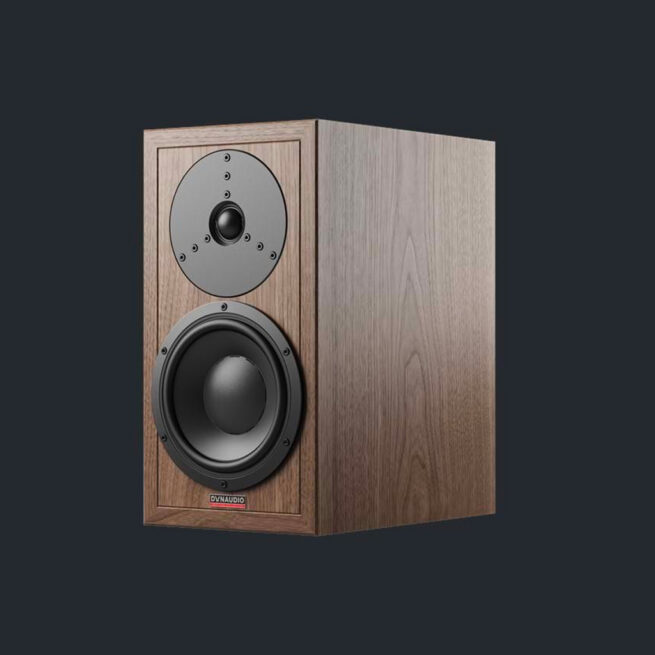 Dynaudio Heritage Special Bookshelf Speaker (Pair)
100% brand new original products
Official manufacturer's warranty valid in India
Price includes GST & Shipping
Check for EMI & Pay on Delivery Options
Country of Origin: Denmark
Color: American Walnut
Warranty: 1 Year
20
people are viewing this right now
Description
Heritage Special is brimming with the spirit (and flødebolle-fulled boldness) that made the Dynaudio name – plus some new surprises. Run your fingers over the hand-finished American Walnut finish. Discover the meticulously crafted joins and corners of the individually selected – and individually matched ­– veneer panels. Pause at the signature groove surrounding the baffle (you'll remember it from the Dynaudio speakers you coveted years ago).
And then put the top-of-the-line Esotar 3 tweeter and souped-up Evidence woofer through their paces with something that'll rock your socks off.
Made in Denmark
It's a tribute to some of our most legendary bookshelf speakers. Get up-close and personal, and you'll notice little design cues from classics including Crafft (1989) and Special Twenty-Five (2002). There's a tip of the hat to the first Contour (1986). Even the backplate offers a knowing wink to Sapphire (2008).
Creating it was a labour of love… not to mention secrecy. Daniel Emonts and Otto Jørgensen, the masterminds behind the project, could often be seen in the Dynaudio Labs kitchen whispering, sotto voce, about things like "American Walnut", "Mundorf" and "Martin over in the Danmarksvej factory". (They stopped as soon as anyone from the marketing department came in.)
Heritage Special is limited-edition: 2500 pairs… and once they're gone, they're gone. When our production department found out what we were building, they were so excited that they demanded to make it from top to bottom, inside and out, at home in Denmark.
That's why 'Special' isn't a word we use lightly. Everything in these speakers, from the cabinets (made and finished in Skanderborg by Martin, Arkadijs, Mikkel and Malene), to the drivers (headed-up by Stine, also in Skanderborg) and the crossovers (designed by Daniel, also in Skanderborg and made by Holms Radiofabrik just down the road in Horsens) is crafted with that word in mind.

It's hip to be square
This is where Heritage Special takes shape. Literally. It isn't a photo-set, carefully dressed to look like a factory. It's a factory, left as it is, with a finished Heritage Special left on the bench after Martin went home (he didn't want us distracting him with cameras while he worked).
Martin has been with Dynaudio for 17 years. The cabinets he and his colleague Arkadijs produce are made right here. Each panel is matched – the fronts, sides, tops and bottoms to each other, and then between the speakers in the pair – and then numbered before assembly so they can be kept together.
Next, the list strips. These thin veneers along the cabinet edges are selected for the right colour tone and grain characteristics, then matched to each other (and between each speaker pair) and numbered to sit with the panels.
We use 19mm MDF for the cabinets (it's a rigid, stable material that's perfect for the kind of precision cutting and joining you'll see here), and sustainable American Walnut for the external veneers. Internal bracing is installed to ensure the cabinet is as rigid as possible, and there's also a layer of heavy bitumen on the inside surfaces that helps minimise unwanted resonances even more.
Once they're glued and clamped, they're left to dry. Then, 24 hours later, they're given to Malene for sanding to perfect smoothness and flatness. By hand.
She makes it look easy.
It really, really isn't.
Malene makes sure the surfaces are ready for Mikkel to lacquer. He applies two coats (returning them to Malene for another sanding after each one), before giving them the final finish. It's a process we've perfected over the course of more than 40 years – and when you run your fingers over that surface, you'll feel just how good we've got at it.
After being checked, lusted over by passing employees and given a goodbye salute, the cabinets are taken to have their drivers, crossovers and finishing touches applied.
Key Features
Classic Dynaudio technology
Magnesium Silicate Polymer mid/bass units, aluminium internal-magnet voice-coils, soft-dome Esotar 3 tweeters, first-order crossovers and more… brought right up to date.
Refined in Jupiter
'Heritage' needn't mean 'outdated'. We've used our state-of-the-art, 13 x 13 x 13m Jupiter measuring array to help tune Heritage Special. (Make no mistake, if we had it back in the 80s, we'd've used it then, too.)
Limited to 2500 pairs
Once they're gone, they're gone. And if you're lucky enough to own a pair, you'll be owning an exclusive piece of Dynaudio history.
Technical Specs
Technical Details

Sensitivity:
85dB (2.83V/1m)
IEC power handling:
200W
Impedance:
4 Ohms
Frequency response (±3dB):
42Hz–23kHz
Box principle:
Bass reflex rear ported
Crossover:
2-way
Crossover frequency:
2200 Hz
Crossover typology:
1st order
Woofer:
18cm MSP cone
Tweeter:
28mm Esotar 3
Weight:
11 kg/24 1/4 lb
Dimensions (WxHxD):
208 x 385 x 320 mm
8 3/16 x 15 1/8 x 12 5/8 in
Dimensions with feet/grille (WxHxD):
208 x 385 x 337 mm
8 3/16 x 15 1/8 x 13 1/4 in
DYNAUDIO

Dynaudio
 is a Danish 
loudspeaker
 maker, founded in 1977. Dynaudio builds speakers using only their own drivers. Dynaudio has a subsidiary called 
Dynaudio Acoustics
 that focuses on professional 
studio
monitor loudspeakers. Dynaudio speakers are installed in more than ten thousand recording studios worldwide and have been chosen as reference monitors by BBC Radio & Music.
There are no question found.
Setup
Setting up your system is fairly simple. You can follow the instructions in the video below or navigate through the product manual available at the bottom of this page. If you still face issues, feel free to connect with our expert team on chat or call.