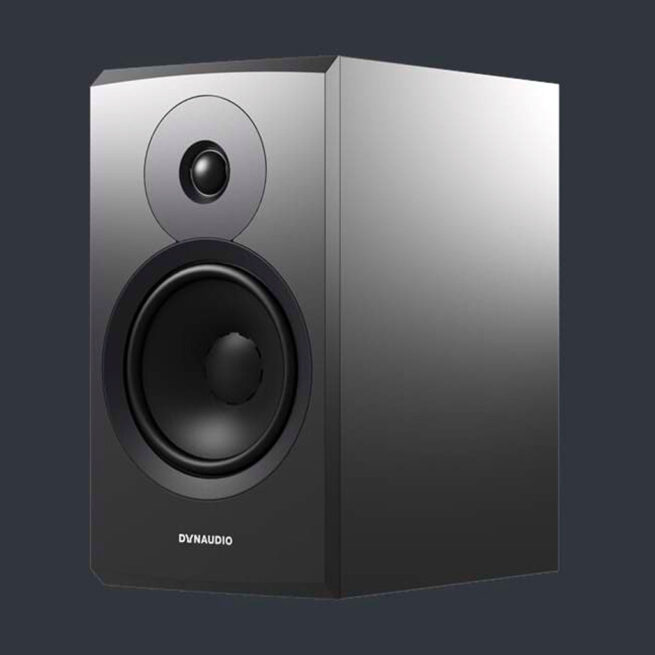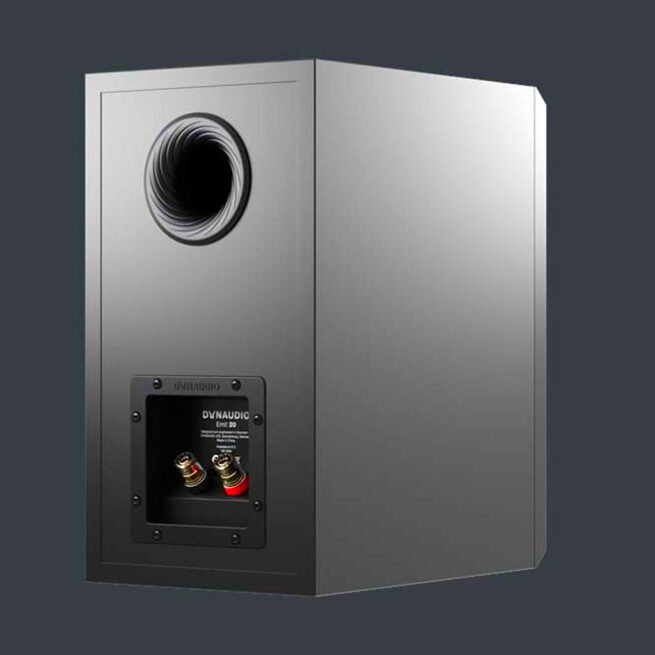 Dynaudio Emit 20 Bookshelf Speaker (Pair)
100% brand new original products
Official manufacturer's warranty valid in India
Price includes GST & Shipping
Check for EMI & Pay on Delivery Options
Country of Origin: Denmark
Color: Black / White / Walnut
Warranty: 1 Year
Dispatch Time  1-2 Business Days
29
people are viewing this right now
Description
Dynaudio Emit 20 is a high-performance standmount speaker derived from our Evoke, Contour i and Confidence series. It gives a stellar combination of detail and punch for small to medium-sized rooms.
Mid/bass power and control
Dynaudio Emit 20 uses an 18cm MSP (Magnesium Silicate Polymer) woofer, based on the one we've used in the Evoke series. MSP is a material we developed in-house, and have used for many years on our most renowned models. The cone itself is a one-piece design; the dust-cap is moulded as part of the playing surface, which gives it a solid connection to the voice-coil that moves it back and forth. You'll hear that connection as supreme control and detail in the low and midrange frequencies.
The voice-coil itself is aluminium, wound onto a two-layer glass-fibre former. We've a long history of using aluminium wire in our voice-coils – and for good reason. It's light, so doesn't impede fine movement, and we can get more windings on the former for a given length of wire. That means more 'BL', or magnetic power. More power means more punch. We've boosted that further, too, by coating the aluminium wire in copper.
Combined with the stacked ferrite magnet system and new surround, that gives Emit 20's long-throw mid/bass driver all the bass power you could want, even at high volumes, combined with amazing control over midrange frequencies (where instruments such as guitars, vocals and violins reside).

High-level tweeter performance
Emit 20 uses the Cerotar tweeter directly from Evoke. It's a 28mm soft-dome design that includes the ingenious Hexis inner-dome device. The coated fabric dome delivers sweet-sounding high frequencies – all the openness and detail the artists want you to experience in their recordings – while the Hexis smooths the frequency response and reduces unwanted resonance for surprising clarity.
Cerotar is powered by a powerful Ferrite+ strontium carbonate ceramic magnet system. It gives the tweeter all the power it needs to play loud without breakup while maintaining all the nuance you could want. Even at neighbour-bothering levels.
And because it uses technology from our top-of-the-range Core pro reference speakers (whose users need to listen intently for long periods), you won't get tired when you're in the middle of a long session.

Inside the crossover
The mid/bass driver and tweeter are marshalled by a custom-designed crossover from the same team who brought you Heritage Special and Core. Our engineers used a hybrid first- and second-order topology for the tweeter and woofer respectively, giving them exceptional control over each driver's behaviour. It means you'll hear what the artist wants you to hear, without compromise.
An impressive finish
Emit 20 comes in three custom-designed laminate finishes – Black, White and Walnut – that beautifully complement the cabinets' clean Scandinavian design (conceived in-house at our headquarters in Denmark). Black magnetic grilles come as standard in the box.
We've even lavished attention on the cover-rings, which hide the mounting screws. They're one-piece moulded with the surface finish embedded in the material, which eliminates the need for lacquer – so they won't degrade over time.
If you want an audiophile-level standmount speaker for a stereo set-up in medium-size room, or fancy a little more 'oompf' from your rear surround channels, Emit 20 is the ideal choice.
Key Features
Designed and engineered in Denmark
Cerotar tweeter
Clean and simple
Technical Spec
Technical details

Sensitivity:
86dB (2.83V/1m)
IEC power handling:
160 watt
Impedance:
6 Ω
Frequency response (± 3 dB):
53Hz - 25kHz (-6 dB 42 Hz - 35 Khz)
Box principle:
Bass reflex rear double flared port
Crossover:
2-way
Crossover frequency:
3800 Hz
Crossover topology:
1ST order tweeter / 2nd order woofer
Midrange / Woofer:
18 cm MSP
Tweeter:
Cerotar soft dome with Hexis
Weight:
10.32 kg / 22.8 lb
Dimensions (W x H x D):
205,1 X 370 X 311,5 mm
8.1 X 14.6 X 12.3 in
Dimensions with feet/grille (W x H x D):
205,1 X 370 X 324,5 mm
8.1 X 14.6 X 12.8 in
DYNAUDIO

Dynaudio
 is a Danish 
loudspeaker
 maker, founded in 1977. Dynaudio builds speakers using only their own drivers. Dynaudio has a subsidiary called 
Dynaudio Acoustics
 that focuses on professional 
studio
monitor loudspeakers. Dynaudio speakers are installed in more than ten thousand recording studios worldwide and have been chosen as reference monitors by BBC Radio & Music.
There are no question found.
Setup
Setting up your system is fairly simple. You can follow the instructions in the video below or navigate through the product manual available at the bottom of this page. If you still face issues, feel free to connect with our expert team on chat or call.