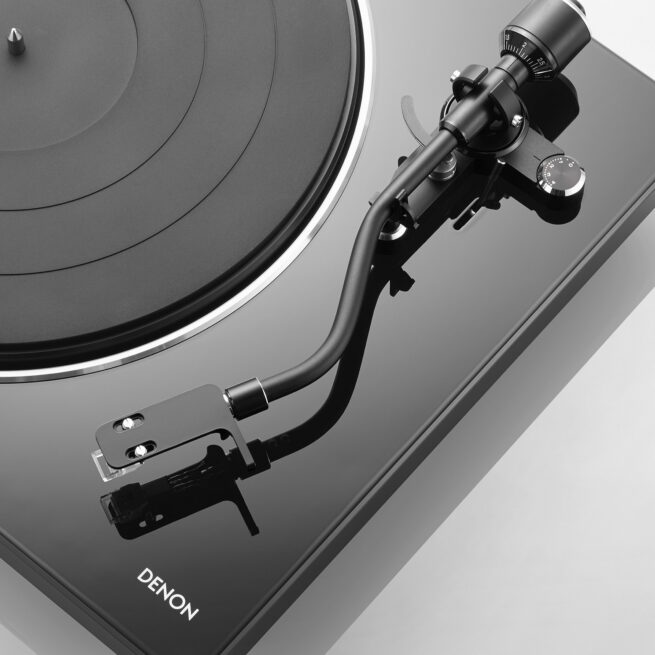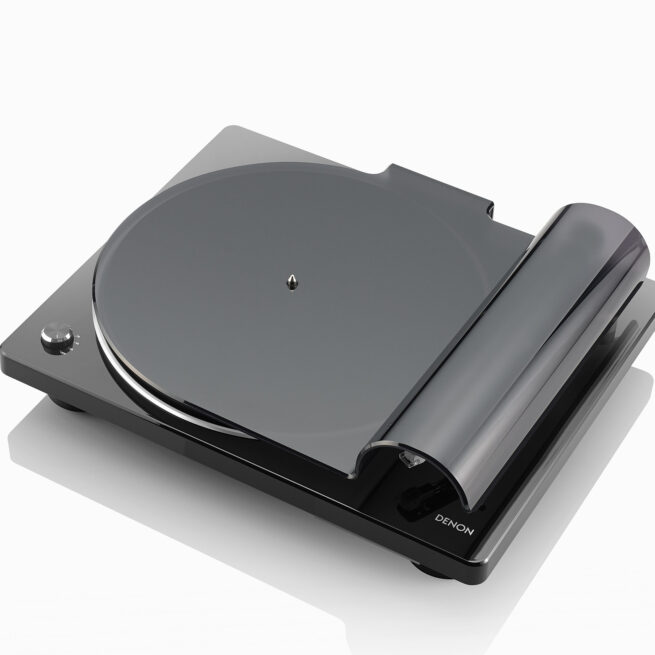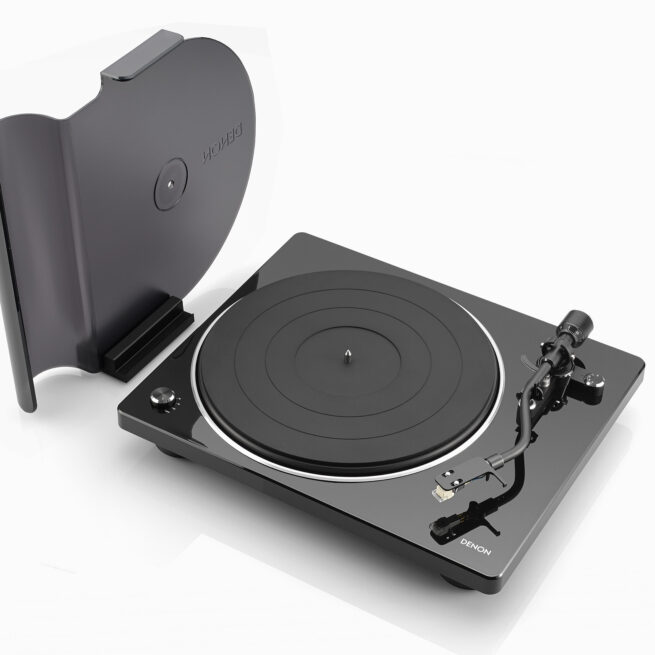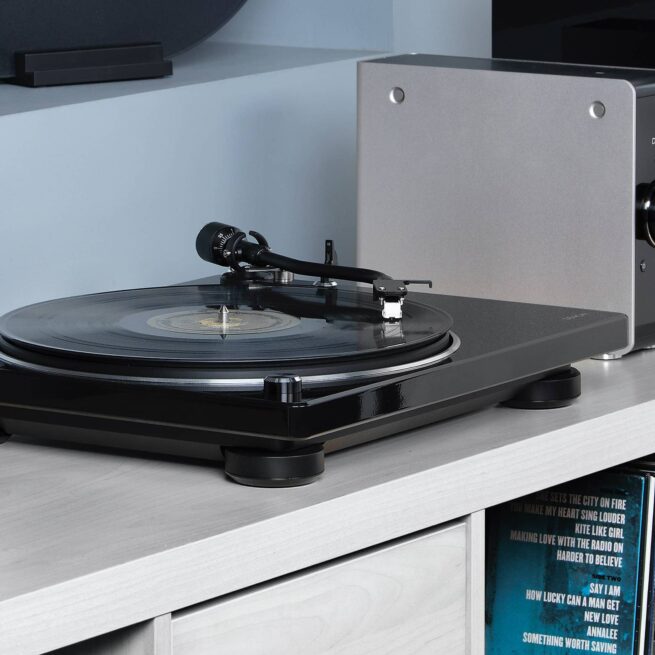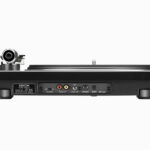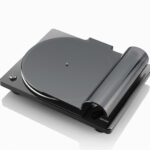 Denon DP-450USB Hi-Fi Turntable
100% brand new original products
Official manufacturer's warranty valid in India
Price includes GST & Shipping
Check for EMI & Pay on Delivery Options
Country of Origin: Japan
Color: Black
Warranty: 1 Years
23
people are viewing this right now
Description
Denon DP-450USB Hi-Fi Turntable
Reinvigorate your passion for vinyl at home or on-the-go with the Denon DP-450USB. Integrated USB-A port lets you digitize your vinyl collection and create quality records in MP3 or WAV file formats. Strong, sophisticated design perfectly blends with the existing Denon Design Series. S-Shape curved tone-arm and weighted, belt-driven platter spins your 33 1/3 rpm, 45 rpm or 78 rpm records with precision and detail. Connect the DP-450USB to any amplifier or system with analog inputs via the built-in phono equalizer and enjoy music that's faithful to the original recording.
Create Digital Files of Vinyl Records
Enjoy your vinyl collection anywhere with DP-450USB. Integrated USB-A output allows for one-touch recording of your favorite vinyl records onto a USB drive as MP3 or WAV format files. Further editing is possible by the free Musicut software. Play your albums on the DP-450USB or record and take them with you to enjoy trusted Denon sound wherever you go.
Specially Engineered S-shape Tonearm
Features a carefully engineered S-Shape curved tonearm with optimized tracking angle at any point of the record, auto-lift at records end and playback stop. When the vinyl reaches the end of playback, the tonearm auto-lifts preserving the excellent condition of your album and the cartridge. S-Shape curved tonearm design also reduces harmonic distortion, ensuring a crystal clear sonic signal every time you listen.
Strong-Built Construction
Strong build construction offers both the strength and high-density needed to reproduce detailed, resonance-free music. Thick cabinet walls and a weighted platter provide the optimal surface for your vinyl collection, reducing external vibration. Pair DP-450USB with the rest of the Denon Design Series for a durable, high-resolution system.
Speed Selector with Easy Setup and Operation
Takes minutes to unbox and quickly operate for novice and seasoned vinyl fans. Plug DP-450USB into your favourite amplifier or system, including the Denon Design Series, and immediately begin reconnecting with your vinyl collection – it's that easy.
Key Features
Unique S-Shape curved tonearm design optimizing tracking angle at any point of the record to reduce harmonic distortion for clear audio reproduction
Tonearm supports auto lift-up and playback stop when end of record is reached
Built-in phono equalizer with on/off toggle lets you connect DP-450USB to any amplifier or system with analog inputs or phono inputs
Multi-speed selector (33-1/3 rpm, 45 rpm, 78 rpm) to play the widest array of vinyl records
Includes high quality MM cartridge for precise sound out-of-the-box within minutes
Exclusive, removable dust cover with included base eliminates fixed-cover vibrations and doubles as a display stand for your vinyl record covers
Supports both MM and MC cartridges — advanced flexibility that matches your audio preferences
Weighted, belt-driven platter with auto speed sensor maintains accurate speed for precise sound reproduction
Digitize your vinyl collection to WAV or MP3 with the USB port and one-touch recording
Strong, weighted base and durable construction reduces external vibrations and improves audio performance
Part of the Denon Design Series — elegant, modern design fits beautifully in the home
Engineered with a more than 100-year Denon legacy in audio excellence
Technical Specs
Technical Details

Rotation Speed
33 1/3, 45, 78 rpm
Drive Method
Belt-Drive
Motor
DC Servo
Wow and Flutter
0.1% WRMS
Signal to Noise Ratio
62 dB
Design
Static Balanced, Curved
Effective Arm Length
8.66" / 220 mm
Overhang
0.63" / 16 mm
Cartridge Weight
Compatible: 5 to 13 g / 59.2 to 127.5 mN
Cartridge Type
MM-Type
Output Voltage
Equalizer Off: 2.5 mV
Equalizer On: 150 mV
Needle Pressure Range
0 to 4 g / 0 to 39.2 mN
1 Gradation is 0.1 g / 0.98 mN
Optimal
2 g / 19.6 mN
Replacement
DSN-85
Output
1 x Stereo RCA Pair with Ground Screw
1 x USB 2.0 Type-A (Front)
Output File Formats
MP3, WAV
Power Requirements
100 to 230 VAC, 50/60 Hz
Operating Power Consumption
10 W
Standby Power Consumption
≤0.5 W
Dimensions (W x H x D)
16.2 x 5.2 x 13.7" / 41.1 x 13.2 x 34.8 cm Including Dust Cover
Weight
12.4 lb / 5.6 kg Including Dust Cover
There are no question found.
Setup
Setting up your system is fairly simple. You can follow the instructions in the video below or navigate through the product manual available at the bottom of this page. If you still face issues, feel free to connect with our expert team on chat or call.