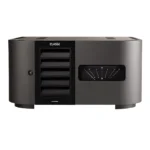 Classe Delta Mono Power Amplifier (Class-A Mono Block)
100% brand new original products
Official manufacturer's warranty valid in India
Price includes GST & Shipping
Check for EMI & Pay on Delivery Options
Country of Origin: Japan
Warranty: 2 Years
23
people are viewing this right now
Description
Classe Delta MONO is an embodiment of exquisite, controlled, dynamic power. A nuanced enclosure cradles the extensively innovative mix of technologies and hand-picked components which pack a punch with effortless, refined sound.
Exceptional Durability
Classe Delta MONO is meticulously crafted for stellar performance and durability – every detail extensively refined. The first 35W of power is pure Class A, and with over 300W per unit total (1,000W @ 2Ω) at its command, Delta MONO will confidently control any loudspeaker.
Stunning Clarity with Authoritative Sound
Delta MONO delivers the utmost clarity in everything you hear. Every detail communicates natural, authoritative sound. An expansive dynamic range with infinitesimal noise delivers unmatched fidelity to the musical source. Indulge in a delightful aural experience.
Awe-Striking Design
Delta MONO continues Classé's reputation for monumental design. The amplifier creates an immediate presence in any room or installation through its unique form and superb materials. The illuminated VU meter beautifully communicates output with unparalleled aesthetic value and detail. This is an amplifier that looks as iconic as it sounds.
Versatility, Control and Unrivalled Amplification Performance
Thanks to the unique ICTunnel™ cooling technology, Delta MONO is stackable and rackable in a way no conventionally-cooled amplifier can measure up to. Internal temperature is consistently monitored and controlled, ensuring performance in any configuration. Equipped with Delta MONO's construction, ICTunnel renders support to a lifetime of unrivalled amplification performance.
Key Features
Harmony between minimal design and unrivalled performance
Up to 35W delivered in pure Class A operation
300W per unit total
Massive, high-quality power supply
Custom toroidal transformer
Hand-laid circuit boards
6-layer circuit boards provide for shortened signal and power pathways with lowest noise Fully balanced output stage and balanced circuitry
22 4-pole Mundorf® capacitors
Custom-made Navcom® feet to absorb vibrations
Furutech® rhodium-plated RCA and torque-guard speaker connectors
Proprietary ICTunnel™ temperature regulation technology
Power-on to optimal temperature in minutes
Active sensing and regulation of optimal amplifier temperature
Low-noise operation suitable for studio applications
Luxurious anodized aluminum body
Custom, illuminated VU meters
Perfectly complements other components in the Delta family
Technical Specs
Technical Details
Frequency Response
(-3dB, 50Ω source impedance) 1Hz – 650kHz
Continuous Output Power
(at 1kHz, 0.1% THD+N) C300W / 8Ω 600W / 4Ω 1000W / 2Ω (with AC line held constant)
Harmonic Distortion
(measurement bandwidth: 500kHz, 25Vrms in 4Ω or 8 Ω) <0.0016% at 1kHz <0.0018% at 10kHz <0.0028% at 20kHz
Harmonic Distortion
(measurement bandwidth: 90kHz, 25Vrms in 4Ω or 8 Ω) <0.0005% at 1kHz <0.0006% at 10kHz <0.0015% at 20kHz
Peak Output Voltage
(nominal AC line) 148Vp-p into 8Ω 156Vp-p no load
Input Impedance
(at 1kHz, BAL / SE) 82kΩ
Voltage Gain
(at 1kHz, BAL / SE) 29dB
Intermodulation Distortion
(SMPTE 4:1) (8Ω or 4Ω, BAL / SE) <0.001%
Intermodulation Distortion
(CCIF) (8Ω or 4Ω, BAL / SE) <0.002%
Signal-to-Noise Ratio
(A wtd in parenthesis) (22kHz BW) 117dB (119.5dBA)
Slew Rate
117dB (119.5dBA)
Output Impedance
0.01Ω (100Hz), 0.011Ω (1kHz), 0.015Ω (10kHz)
Damping Factor
(at 1kHz, ref 8Ω) 700
Overall Dimensions
 Width: 17.50 in (444 mm) Depth: 19.37 in (492 mm) Height: 8.74 in (222 mm)
Weight
Gross Weight: 111.6 lbs (50.6 kg)

Net Weight: 97.7 lbs (44.3 kg)
There are no question found.
Setup
Setting up your system is fairly simple. You can follow the instructions in the video below or navigate through the product manual available at the bottom of this page. If you still face issues, feel free to connect with our expert team on chat or call.