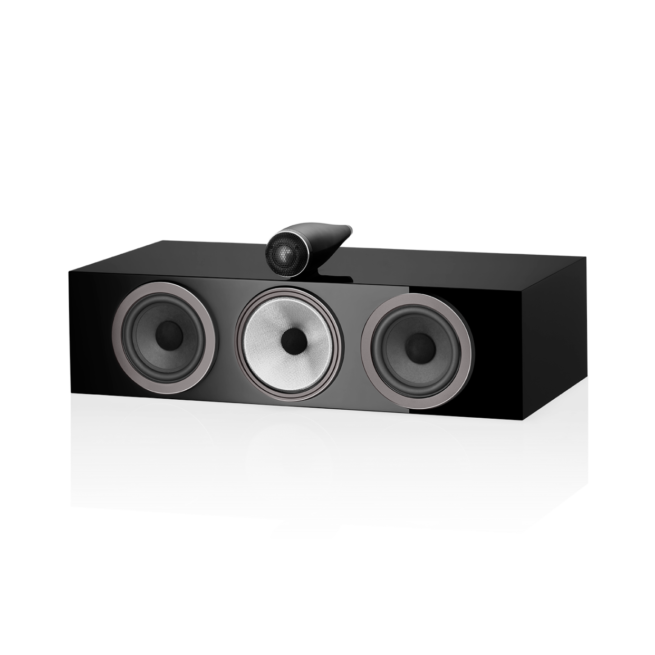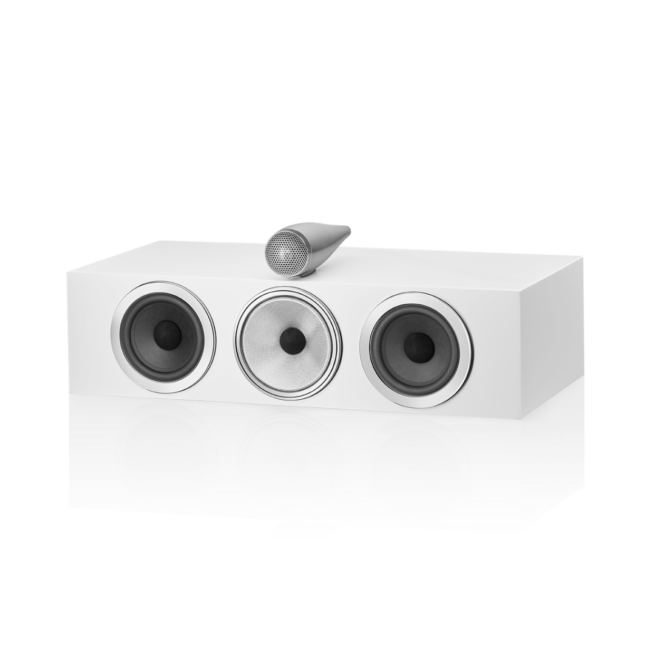 Bowers & Wilkins HTM71 S3 Center Channel Speaker
100% brand new original products
Official manufacturer's warranty valid in India
Price includes GST & Shipping
Check for EMI & Pay on Delivery Options
Country of Origin: China
Color: Black / White / Mocha
Warranty: 1 Year
23
people are viewing this right now
Description
Bowers & Wilkins HTM71 S3 is our flagship centre-channel speaker features a Carbon Dome drive unit housed in a Tweeter-On-Top enclosure, a 130mm (5in) Continuum Cone FST™ midrange driver – particularly important for clarity with dialogue – and twin Aerofoil™ Profile bass cones. It's the perfect partner for the 705 S3, 703 S3 and 702 S3.
Uncompromising vocal performance
The Bowers & Wilkins HTM71 S3 now features Tweeter-on-Top technology, ensuring perfect integration with similarly equipped 700 Series models in a surround sound system.
A house for high frequencies
The 700 Series features the latest generation of our iconic Solid Body Tweeter-on-Top housing. Its new, more elongated form incorporates a longer tube-loading system to produce an even more free and open sound with high frequencies. The carefully decoupled housing is milled from a single solid block of aluminium to better resist resonance.
Sharper detail
Carbon Dome tweeters are purpose-built for the 700 Series. Delivering a dramatic improvement on the aluminium double dome tweeter, they raise the breakup threshold to 47kHz, for pinpoint imaging accuracy and detail.
Truly amazing sound
Thanks to its composite construction, the Continuum™ cone avoids the abrupt transitions in behaviour that can impair the performance of a conventional drive unit. The result is a more open, neutral performance that delivers voices and instruments with precision and transparency.
Clean and clear
Every three-way loudspeaker in the new 700 Series has a dedicated midrange cone using four key Bowers & Wilkins technologies: the Continuum cone, FST™, Biomimetic Suspension and midrange decoupling, the latter ensuring minimal interference from the operation of the loudspeaker's bass drivers.
A triumph of science
Developed using advanced computer modelling techniques, the Aerofoil™ Profile bass cone has variable thickness, providing stiffness and rigidity where it's needed most. The result: deep and dynamic bass.
Key Features
Premium-grade 2-way compact centre channel speaker from B&W
Features a 1" Decoupled Carbon Dome tweeter
Incorporates a 5" Continuum cone FST driver for detailed midrange and a tight bass response
Optimum crossover tuning for amazing power, loudness and clarity
Frequency-response tailored superior vocal and dialogue clarity
Minimal and classy aesthetics that emanates a high-end appeal
Inspired by technologies found in B&W's flagship and iconic speakers
Timbre-matched with speakers from the B&W 700 series
Technical Specs
Technical Details
Technical features
Decoupled Carbon Dome tweeter
Solid Body Tweeter-on-Top
Continuum™ cone FST™ midrange
Aerofoil™ Profile bass cones
Flowport™
Description
3-way vented-box system
Drive units
1x ø25mm (1 in) Decoupled Carbon Dome high-frequency
1x ø130mm (5 in) Continuum cone FST midrange
2x ø130mm (5 in) Aerofoil Profile bass
Frequency range
45Hz - 33kHz
Frequency response
50Hz - 28kHz ±3dB
Harmonic distortion
2nd and 3rd harmonics (90dB, 1m on axis)
<1% 90Hz - 22kHz <0.5% 120Hz - 20kHz
Sensitivity
89dB spl (2.83Vrms, 1m)
Nominal Impedance
8Ω (minimum 4Ω)
Recommended Amplifier Power
30W - 200W into 8Ω on unclipped programme
Dimensions
Height: 165 mm cabinet only
233 mm including tweeter
Width: 628 mm cabinet only
Depth: 318 mm cabinet only
356 mm including grille and terminals
Weight
17.45kg
There are no question found.
Setup
Setting up your system is fairly simple. You can follow the instructions in the video below or navigate through the product manual available at the bottom of this page. If you still face issues, feel free to connect with our expert team on chat or call.