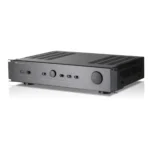 Bowers & Wilkins (B&W) SA1000 Subwoofer Amplifier
100% brand new original products
Official manufacturer's warranty valid in India
Price includes GST & Shipping
Check for EMI & Pay on Delivery Options
Country of Origin: China
Color: Grey
Warranty: 1 Year
25
people are viewing this right now
Out of stock
Description
Bowers & Wilkins SA1000 Subwoofer Amplifier
This breakthrough 2U rack mount Class D subwoofer amplifier is based upon ICEpower® technology and is purposely meticulously designed to drive the CT subwoofers. This Class D amplifier is amazingly powerful and stable and will facilitate the CT subwoofers to render fantastic amounts of tight slamming bass. The Bowers & Wilkins SA1000 allows for up to two of the same subwoofers to be driven simultaneously.
Key Features
1000W rack-mount amplifier with built-in subwoofer equalisation
Based upon ICEpower® technology
Allows for up to two of the same subwoofers to be driven simultaneously
Technical Specs
Amplifier Functions & Specifications
Front panel
Rotary volume (line in)
Rotary low-pass filter frequency (4th-order Linkwitz,
40Hz - 140Hz)
Low-pass filter defeat 2-posn switch
Phase 0º/180º 2-position switch
Bass extension 3-position switch
Movie/music EQ 2-position switch
On/auto/standby 3-position switch
Status LED
Fault LED
Rear panel
Model select 3-position switch (CT SW10/CT SW 12/
CT SW15)
Amplifier Inputs
2x RCA Phono socket, line in
2x RCA Phono socket, link out
1x XLR socket, line in
Amplifier Outputs
1x XLR socket, link out
3.5mm jack - 12V trigger on/standby (overrides
manual standby setting)
3.5mm jack - 12V trigger equalisation movie/music
1x Neutrik® Speakon® 4-pole speaker socket
2x pairs of Binding Posts
Amplifier power output
1000W
Input impedance
 33kΩ
Signal / noise
80dB
Amplifier rated power consumption
300W – 1/8 full power
34W – Idling
Dimensions
Height: 100mm (3.9 in) [88.5mm (3.5 in) plus feet]
Width: 430mm (16.9 in)
Depth: 322mm (12.7 in)
Front panel Height: 2U 88.1mm (3.5 in)
Net Weight
6.45kg (14.3 lb)
Finishes
Black
There are no question found.
Setup
Setting up your system is fairly simple. You can follow the instructions in the video below or navigate through the product manual available at the bottom of this page. If you still face issues, feel free to connect with our expert team on chat or call.