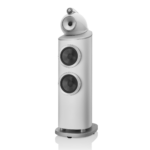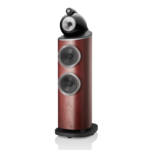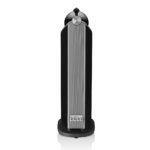 Bowers & Wilkins 803 D4 Floor standing loudspeaker (Pair)
100% brand new original products
Official manufacturer's warranty valid in India
Price includes GST & Shipping
Check for EMI & Pay on Delivery Options
Country of Origin: United Kingdom
Color: Gloss Black / White / Satin Rosenut / Satin Walnut
Warranty: 1 Year
23
people are viewing this right now
Description
B&W's most compact headed model brings all the technical benefits of a dedicated midrange enclosure – the Turbine™ Head, with its decoupled midrange cone – to a smaller footprint that's effortlessly accommodated in any home. Bowers & Wilkins 803 D4 features all the most iconic ingredients in the 800 Series Diamond range including, of course, that glorious headed enclosure. It is, however, much more compact than its other siblings. Step up to the 802 D4, and you'll get both larger 200mm (8in) bass cones and a larger 150mm (6in) midrange driver. Step up for more power.
Small Wonder That Packs a Punch
Bowers & Wilkins 803 D4 may be notably more compact than the 801 D4 or 802 D4, but it still bristles with technical innovation, most obviously in its use of a three-box construction. Its 130mm (5in) midrange cone is carefully isolated from the impact of its bass cones thanks to its Turbine Head enclosure.
Reverse Wrap Cabinet
Instead of a traditional loudspeaker box, B&W's cabinets are crafted from a continuous curved section of wood, with the drive units mounted at the heart of the curvature. This stiffer, more inert structure resists mechanical resonances far better and also ensures better dispersion of sound.
Enhanced Matrix™ Creates a Believable Soundstage
Matrix bracing uses interlocking panels to reinforce loudspeaker cabinet walls in all directions internally, reducing resonance and creating a more believable soundstage. The Matrix assembly in 803 D4 is our best yet, ensuring optimum scale, power and intelligibility.
Aluminium Bass Pods
803 D4 mounts two Aerofoil™ bass cones in twin solid aluminium bass pods, each of which is clamped into an aluminium plate fixed to the stiffest part of its curved cabinet. Formed as single pieces of metal, these stiff structures provide the perfect mechanical location for those dynamic bass cones.
Key Features
Diamond tweeter
Solid body Tweeter-on-Top
Continuum cone FST™
Anti-Resonance plug
Biomimetic Suspension
Turbine Head
Matrix™
Aerofoil cone bass units
Flowport™
Technical Specs
Technical Details
Technical Features
Diamond tweeter
Solid body Tweeter-on-Top
Continuum™ cone FST
Anti-Resonance plug
Biomimetic Suspension
Turbine™ Head
Matrix™
Aerofoil™ cone bass units
Flowport
Description
3-way vented-box system
Drive units
1x ø25mm (1in) Diamond dome high-frequency
1x ø130mm (5in) Continuum cone FST midrange
2x ø180mm (7in) Aerofoil cone bass units
Frequency Range
16Hz to 35kHz
Frequency response
19Hz to 28kHz (+/-3dB from reference axis)
Sensitivity
90dB (on axis at 2.83Vrms at 1m)
Harmonic distortion
2nd and 3rd harmonics (90dB,1m on axis)
<1% 80Hz – 20kHz <0.3% 100Hz – 20kHz
Nominal impedance
8Ω (minimum 3.0Ω)
Recommended amplifier power
50W – 500W into 8Ω on unclipped programme
Max recommended cable impedance
0.1Ω
Cabinet finishes
Gloss Black
White
Satin Rosenut
Satin Walnut
Grille finishes
Black
Grey
Black
Grey
There are no question found.
Setup
Setting up your system is fairly simple. You can follow the instructions in the video below or navigate through the product manual available at the bottom of this page. If you still face issues, feel free to connect with our expert team on chat or call.