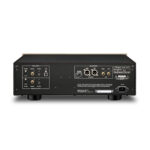 Accuphase DP-570 MDS SA-CD Player
100% brand new original products
Official manufacturer's warranty valid in India
Price includes GST & Shipping
Check for EMI & Pay on Delivery Options
Country of Origin: Japan
Color: Gold
Warranty: 1 Year
27
people are viewing this right now
Out of stock

Guaranteed safe & secure checkout
Description
Accuphase DP-570 MDS SA-CD Player
A high-quality integrated sa-cd/cd player born from a synthesis of the latest technologies
Equipped with quiet and smooth disc loading, the high rigidity and low center of gravity of the sa-cd/cddrive vastly improves readability, while the mds+ type d/a converter with four parallel circuits accurately reads disc information and converts analog signals. It also supports a digital connection with a voicing equalizer and provides a programmable playlist feature that lets you enjoy listening in the order you prefer. Enjoy listening to the Accuphase DP-570, the next step in the pursuit of the ideal disc playback experience.
Accurate Reading
A high-rigidity sa-cd/cd drive mounted on a triple layer bottom plate with exceptional vibration reduction properties and all supported byhigh-carbon cast iron insulators. This configuration creates a strong integrated structure that suppresses the effect of external vibrationson the traverse mechanism. Four newly developed high-quality but lelastic dampers connect the traverse and disc mechanisms, drasticallyreducing external vibrations from being transmitted to the traversemechanism and protecting the lens actuator that reads discs. Musicinformation is read accurately thanks to these vibration protectiontechnologies and then sent to the digital processor.
Quiet Operation
Vibrations from spinning discs are typically transmitted to the chassis, which then resonates and amplifies the operational sounds. Theelastic dampers on the traverse mechanism greatly reduce chassisresonance. The five-layer large bridge cover surrounding the traversemechanism also shields against air-vibration noise from high-speedrotation. This improvement allows the dp-570 to operate quietly withoutbeing affected by rotation.
Smooth loading
Carved from an aluminum block and then finished by a hard anodizedaluminum and satin treatment, the elegant and elaborate disc trayuses steel bearing shafts to open and close smoothly and quietly
MDS+ type D/A converter with four parallel circuits
The mds+ (multiple delta sigma+) conversion principle is a revolutionaryd/a conversion routing that employs multiple delta-sigma type d/aconverters connected in parallel for drastically improved performance. By driving four outputs from a high-performance es9028pro dacchip (ess technologies) in parallel, the Accuphase DP-570 almost doubles (=4)overall performance for distortion, noise, linearity, and more. Becausethe improvements provided by the mds principle are independent ofsignal frequency and level, output signal noise at very low levels isalso minimized, a feat that conventional delta-sigma converters findextremely difficult to achieve.
Direct Balanced Filter circuit
By making the line output circuits andbalance output circuits independent ofeach other, the direct balanced filtercircuit does not affect the output signaleven with two preamplifiers connected.
High-precision clock playback
The high-performance (digital) audio interfacechip ak4118a (asahi kasei microdevices)drastically reduces jitter for high-precision clockplayback.
Key Features
High-grade SA-CD/CD drive
MDS+ type D/A converter with four parallel circuits
Direct Balanced Filter with separate line and balanced signal paths
Programmable playlist
Sampling frequency and quantization bit display
Data disc playback
Numerous transport outputs and digital inputs
Digital connection with voicing equalizers
Phase selector for balanced outputs
Technical Specs
Technical Details

Type
One box CD/SACD player
Disc types
CD; SACD; CD-R/-RW; DVD‑R/-RW/+R/+RW
Digital inputs
HS-Link (proprietary standard); USB; Toslink Optical; Coaxial S/PDIF
Digital outputs
HS-Link; Toslink Optical; Coaxial S/PDIF
Analogue outputs
Line level; Balanced (with switchable phase selector)
D/A converter
 4 per channel, parallel, MDS+ (delta-sigma)
Frequency response
0.5Hz–50kHz (+0, -3.0dB)
THD + noise
0.0006% (20-20,000Hz)
Signal to noise ratio
120dB
Dynamic range
117dB
Output level control
0dB to -80dB (1dB steps, digital)
Size
 465 × 151 × 393mm (W×H×D)
Weight
19Kg
There are no question found.
Setup
Setting up your system is fairly simple. You can follow the instructions in the video below or navigate through the product manual available at the bottom of this page. If you still face issues, feel free to connect with our expert team on chat or call.