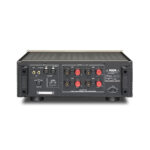 Accuphase A-36 Class-A Stereo Power Amplifier
100% brand new original products
Official manufacturer's warranty valid in India
Price includes GST & Shipping
Check for EMI & Pay on Delivery Options
Country of Origin: Japan
Color: Gold
Warranty: 1 Years
28
people are viewing this right now
Out of stock

Guaranteed safe & secure checkout
Description
Tecnifi announces the availability of the power-packed Accuphase A-36 Class-A Stereo Power Amplifier. The new A-36 inherits many of the outstanding design technology features developed for the higher-end models. It redefines the baseline for pure class-A power amplifiers and embodies the same unflinching attention to detail and dedication to sound quality for which Accuphase is justly famous. In the output stage, power MOS-FETs renowned for their excellent frequency response, sonic performance, and superior reliability are used in a triple parallel configuration and driven in pure class A. This is sustained by the strong power supply featuring a massive transformer and two large 47,000μF filtering capacitors. Output power in each channel is rated for an impressive 150 watts into 1 ohm, 120 watts into 2 ohms, 60 watts into 4 ohms, and 30 watts into 8 ohms. Even speakers with ultralow impedance or drastic fluctuations in impedance curve can be driven reliably by this impressive amplifier. In the output circuitry, MOS-FET switches are used in place of relays, to cut out mechanical contacts and improve long-term reliability.
Instrumentation amplifier topology for fully balanced signal paths
The instrumentation amplifier principle ensures that all signal paths from the inputs to the power amp stage are fully balanced. This not only results in excellent CMRR (Common Mode Rejection Ratio) and minimal distortion, it also makes the amplifier highly resistant against external noise and other external influences. The result is a drastic improvement in operation stability and reliability.
Current feedback principle assures excellent phase characteristics in high range
The A-36 uses the output signal current rather than voltage for feedback. Since the impedance at the current feedback point is very low, there is almost no phase shift. A minimal amount of NFB therefore results in maximum improvement of circuit parameters.
Further refined MCS+ topology for even lower noise
Accuphase's original MCS (Multiple Circuit Summing) principle uses a number of identical circuits connected in parallel to achieve superior performance characteristics.
Key Features
Pure Class A operation delivers quality power: 30 watts x 2 into 8 ohms.
Power MOSFET output stage features 3-parallel push-pull configuration.
Instrumentation amplifier principle used in input stage.
Amplification stage implements further evolved MCS+ topology.
Current feedback principle combines stable operation with outstanding sound quality.
Bridged connection mode allows upgrading to monophonic amplifier.
Strong power supply with massive high-efficiency transformer and large filtering capacitors.
4-stage gain control.
Technical Specs
Technical Details
Continuous Average Output Power
 (20 - 20,000 Hz)
Note: Load ratings marked (*) apply only to operation with music signals. Stereo operation 150 watts per channel into 1 ohm (*) (both channels driven) 120 watts per channel into 2 ohms 60 watts per channel into 4 ohms 30 watts per channel into 8 ohms
Monophonic operation (bridged connection):
300 watts into 2 ohms (*) 240 watts into 4 ohms 120 watts into 8 ohms
Total Harmonic Distortion
Stereo operation (both channels driven): 0.05% with 2 ohm load 0.03% with 4 to 16 ohm load Monophonic operation (bridged connection) 0.05% with 4 to 16 ohm load
Intermodulation Distortion
0.01%
Frequency Response
At rated output: 20 – 20,000 Hz +0, -0.2 dB At 1 watt output: 0.5 – 160,000 Hz +0, -3.0 dB
Gain
28.0 dB (with GAIN selector at MAX) (Stereo and monophonic operation) Gain selection MAX, -3 dB, -6 dB, -12 dB
Output Load impedance
Stereo operation: 2 to 16 ohms
Monophonic operation: 4 to 16 ohms With music signals only, 1-ohm loads are permissible for stereo operation and 2-ohm loads for monophonic operation.
Damping Factor
400
Line:
20 kilohms
Signal-to-Noise Ratio (A-weighted, with input shorted)
112 dB (GAIN selector at MAX) 120 dB (GAIN selector at -12 dB) At rated continuous average output
Output Level Meters
-40 dB to +3 dB (indication in dB and %) Logarithmic scale
Operation selector
OFF / NORMAL / HOLD (∞) Meter sensitivity selector (-20 dB) *Monophonic operation: same value displayed for left/right
Power Consumption
155 watts idle 270 watts in accordance with IEC 60065
Maximum Dimensions
Width 465 mm (18.31") Height 171 mm (6.73") Depth 425 mm (16.73")
Weight
22.8 kg (50.27 lbs) net
There are no question found.
Setup
Setting up your system is fairly simple. You can follow the instructions in the video below or navigate through the product manual available at the bottom of this page. If you still face issues, feel free to connect with our expert team on chat or call.